Spray Millet Twists (larger premium heads)

A new Twist on a very old snack

Bursting with Healthy Goodness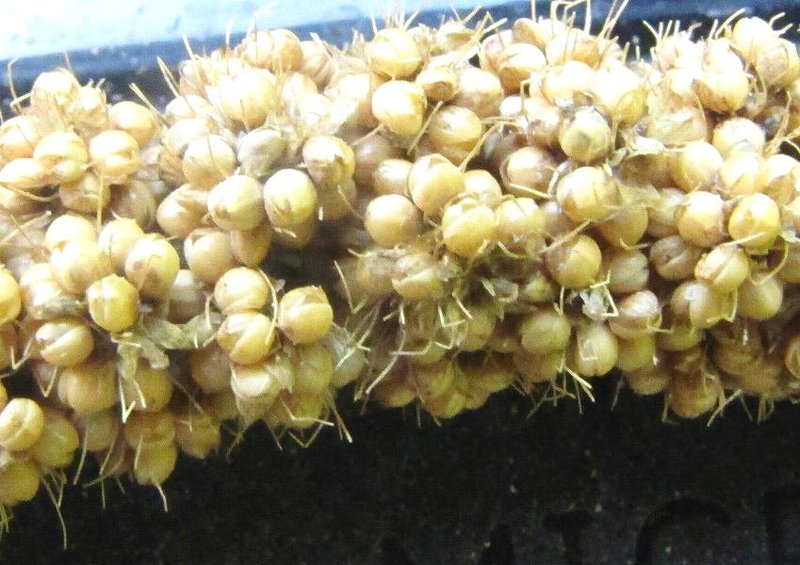 active ingredients:
spray millet, essential vitamins, calcium, protein, pro-biotics
Lady Gouldian Finch Canada introduces
SM Twists ( Spray Millet Twists)
Give your avian companion the best in nutrition while
offering him/her/them a nice healthy snack.
Unlike plain dry spray millet which is loaded with carbs
and little else; SM Twists   are not your average spray millet
Many try to sprout spray millet wasting time and potentially
introducing bacteria if it is not done just right.
SM Twists removes all that.
Just open and serve. No sprouting!  No Waiting!
SM Twists  are sprouted increasing their protein and soaked in our
nutritious
G Tea ; which contains:
All essential in maintaining optimal avian health.
Easy to feed dry
-hang in cage dry and watch the birds gobble it up
..nutrition bursting out in each bite.
or wet
-mist or dunk ( do not soak) wait a few minutes to activate, then
hang SM Twists  in cage / flight offering your avian companion
an enjoyable sprouting snack.
( if feeding wet please
remove after 5 hrs. to prevent bacterial build up) 
Either way you feed SM Twists  wet or dry the nutrition locked in each
seed head
will increase your birds happiness and give them that burst of healthy
nutrition each and every time.
SM Twists  are NOT MADE TO REPLACE DAILY SEED
PLEASE GIVE ONLY ONE DAY WEEKLY AS A SNACK
Too much vitamin intake can cause dietary issues.


Is safe to use during any stage in
 gouldian / finches/ canaries/ hook bills  life cycle:
brooding

feeding chicks

juvenile molt

annual or bi annual molt

older adults
ORDER YOURS TODAY !!




Join our auto renewal service on this product and receive up to 20% off
and monthly on time delivery guaranteed.
To learn more please click here


Are you a first time buyer at:
Lady Gouldian Finch Canada?
If so you are eligible for
10% off your first purchase.
Take Advantage and enjoy the savings.
Enter coupon code: 10%off-FT


If you have any questions on a product or it's use,
or special instructions for an order
( include order # in correspondence)
please contact us here

THANK YOU FOR CONSIDERING LADY GOULDIAN FINCH CANADA