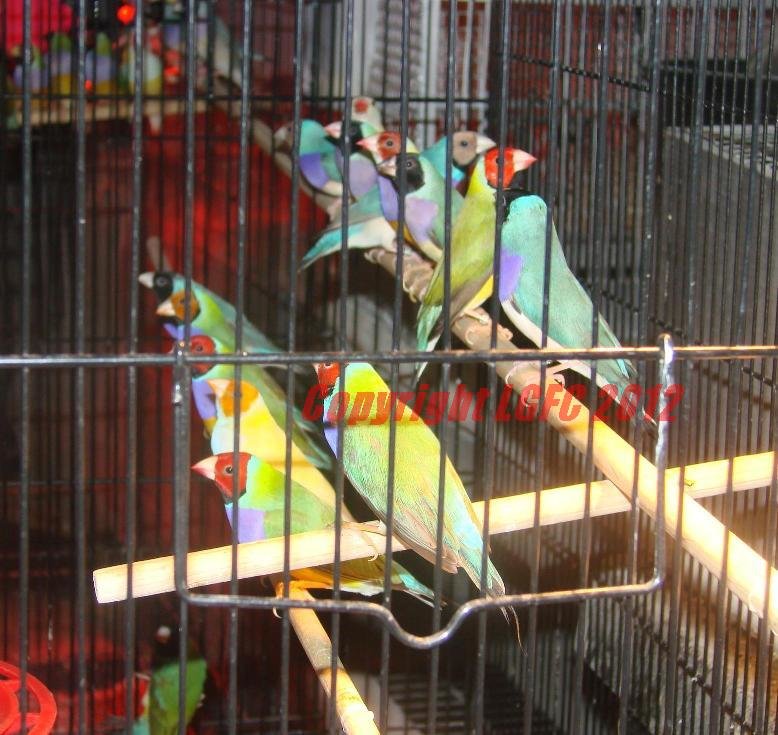 Lady Gouldian Finch Canada is your one stop shop for all your bird needs.

            We are a small aviary and our successful clientele satisfaction has made us the top gouldian site in Canada
            We are currently shipping Internationally successfully
            We provide easily cared for and parent bred birds and all of the accessories needed to keep them healthy and happy.
            We only sell seeds, and supplements that we believe are a  necessary part in helping to  maintain your finches in optimal health.
            We also have books, nests and accessories.

We have been in operation since 1992

        Our Aviaries

        Lady Gouldian Finch Canada is run by Ron Cloutier with loving care taken By Eli D .

        It is a small operation consisting of 50 breeding pairs of finches, these comprise: lady gouldians, 3 types of parrot finches, our consecutive 4 year award winning silver java finches, and euro bengalese to name a few. This small breeding population allows us to get to know each bird and it's needs individually. They are not just a number or a dollar amount here but each is a close family friend, with an identity and lineage. We pride ourselves on our meticulous breeding and husbandry practices and once you've had a bird from us you'll see why we are sold out year after year, and why people come back for more birds from us.
       

        Meet The Breeder:  Ron Cloutier

        Ron is a Darwinist, an animal activist and a veteran show breeder. He has been breeding in Acton, Ontario for close to twenty years and has won several Show Titles back to back in Southern Ontario for his Gouldians, Java Sparrows, and Parrot Finches. Most recently ( 2017) Best Young Finch at the Canadian Nationals
Ron's expertise in Division Four Finches has earned him a place in the Avicultural Advancement Council of Canada  National Judges Panel.
        Ron believes in spending most of  his free time helping others in all their avian pursuits.

        Ron's guiding philosophy is that only through proper management and consistent dialogue can we as avian enthusiasts do our part in ending ecological species devastation. Through these practices we should be able to create a superior captive genealogical base and preserve the remaining wild populations in their native habitats and have an endless choice of pets for many generations to come. Ecology begins with understanding.

        Ron also runs a very in depth gouldian finch  help  group  on Yahoo with it's own exclusive e-zine, as well as 3 lesser sites dealing, in the main, with the selling and buying of finches and canaries.  He also contributes a great deal of time to helping in other gouldian groups on Yahoo. Ron Also moderates Lady gouldian Finch Canada on Face Book

        Accomplishments:

        Ron's biggest accomplishments are not the awards but his constant search to understand these wonderful creatures. He has successfully completed a course on Animal Sciences (diseases, emergency procedure, and hygiene) in record time, receiving a degree of Highest Honours (a 98% average) and he is currently working on an avian biology degree.  Ron just recently completed a 2 year long course in Division Four Judging. Stewarding at over 8 shows in a grueling self imposed two year course.
        Ron now happily shares this knowledge on his yahoo group: Lady Gouldian Finch Canada as well as his Face Book Group of the same name


        Our Beliefs

        Here at Lady Gouldian Finch Canada we have many beliefs but the one that is most important to us is that we believe that we have an obligation to other avian enthusiast to produce birds that are beneficial to the avian community. These birds must be healthy, well bred and easily maintained and they must also be able to produce others like themselves and to rear their progeny so that they, in turn, will know how to rear their own offspring. The biggest detriment to birds in the hobby is that they are labeled "hard to breed", "temper mental" and "soft" but nothing could be further from the truth. Once you adopt our birds you will discover this for yourselves.

        When you adopt our birds you are not only rehoming a companion but getting the piece of mind that comes from knowing you have the information to keep your companion at it's peak condition for years to come.
        Once a bird/birds leaves this facility that is not usually the end, as we enjoy answering all your avian questions to ensure the bird(s)' optimal health and well being.


        We hope you enjoy this site and our birds as much as we enjoy bringing them to you.

Please leave your comments , suggestions and ratings in our forum